WTMS Green Team Wins Bronze Award for 2019-2020 School Year
The WTMS green team won the Sustainable Jersey for Schools's bronze award for the 2019-2020 school year because of their increased efforts in creating a more environmentally friendly school.  The long-term goal of Winslow Middle's green team is to create a sustainable school and district that teaches students about sustainability.
"The goal of the green team is to focus on the sustainability of Winslow Township Middle School," said Environmental STEM teacher and member of the green team, Mr.Cruz,  "How can we become more sustainable with our supplies and the materials we purchase and use? How we can get the community more involved in sustainability efforts?"
For Winslow to acquire the Bronze Award from Sustainable Jersey, the green team had to gain 150 points through multiple different actions to help create a sustainable school.  These actions were categorized into 19 different categories, of which the green team had to complete actions in 6.
"[There are] many things that were already doing in our district and in our school, that people are not aware of," said the chair of the green team, Ms.Keitt, "so being a part of the green team, being a part of Sustainable Jersey for Schools and earning that bronze certification gives us the opportunity to now have support towards working for sustainable practices."
There are multiple different focuses the green team has, such as trying to be more conscious of the electricity used, monitoring were the school gets its paper, and managing the schools waste.  The green team is currently running a tonnage recycling project and are planning to provide social and emotional programs for staff and students.
"We want a place where staff can actually get some social and emotional support as well," said Ms.Keitt ,"working out and some things that we can even send out with staff and students to support that."
There are other awards which Sustainable Jersey For Schools give out, including a silver award that the WTMS's green team is aiming to win.  Furthermore, the Sustainable Jersey for School has given nearly 40,000 dollars in grants to Winslow Middle in order to provide funding for projects to improve the school including vertical gardens and a new greenhouse.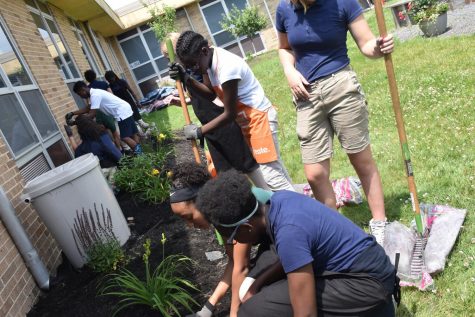 "I tell the students all the time that the big push for sustainability is that the needs of the present should not affect the needs of the future.  So I tell them, this is about you," said Ms. Keitt. "I say to them all the time laughingly, Ms.Keitts not going to be around when this really becomes a problem, so I have to teach you now how to adopt this lifestyle."
The approximately 40 green team members aren't just hoping for Winslow Township Middle School to become sustainable, but to get the entire district to go green.  There hoping to pick projects for every school in the district to participate in and promote sustainability in Winslow's Schools. The district is participating in ink cartridge recycling and little libraries, a program that recycles used books.
"I'm so happy that everyone is really involved in this campaign to be more sustainable," said Mr.Cruz, "I'm really appreciative of all the staff members and students that are involved in this."