Chefs in the Classroom: Food for Thought
The 2020 Chefs in the Classroom: Food for Thought program through AtlantiCare came to Winslow Township Middle School to bring healthy foods into students' lives, helping them to join a more healthy  lifestyle. Students from select classes were able to learn from AtlantiCare's Chef Marchi that you can create a healthier meal at home with the materials you already have. The program was Monday, January 13th; both 7th and 8th grade students were able to join.
"I learned that students who originally looked at the ingredients that were going into the meal… were skeptical because they haven't eaten it before," said Dr. Cooper, "and then after trying they enjoyed it." 
The program took place in the life skills kitchen area (K104). A worker from AtlantiCare, Christine Guzman, and Chef Marchi w set up before it started, bringing in all the materials to create their healthy "Rainbow Bowl" salad. Students from the Young Ladies Future Leaders and Young Mens Future Leaders were automatically participating in the program; Ms. Kernaghan's class were also invited participants. The limit of students that were able to go was 15.  
"It was a good experience," said eighth grader Mathew Marino. "Good food."
The Chefs in the Classroom: Food for Thought program is to promote healthy eating into students lives. Started in 2005, the program has been coming out to different schools for more than 3 years. WTMS is the furthest that they can come to because they are located in Atlantic County, New Jersey, and their emphasis is on showing new foods students can prepare in creative ways. 
"There's all sorts of dishes," said Chef Marchi. " There's lots of dishes when we come in and show as many ingredients as we can." 
The healthy schools program partners up with 114 schools in Atlantic, Cape May, Southern Ocean County, and lower Camden County. Demonstrations begin in October, and Guzman and Chef Marchi aren't the only people who present as part of the program. The program includes other chefs and workers so that they can serve throughout southern New Jersey.
"We started to celebrate it for national nutrition month in March," said Guzman, "and then we actually extended it to October for farm to school months."
During the Food for Thought program, Guzman also talked about MyPlate, an effort spearheaded by the US Department of Agriculture to help students learn how important it is for students to eat a healthier meal. MyPlate offers an app to help in menu design, and students were able to watch Chef Marchi add a variety of colorful ingredients to the Rainbow Bowl. Chef Marchi also taught students how to make their own salad dressing instead of buying it at the store.  When the salad was done, students and staff were able to eat the salad and experience a new taste of food.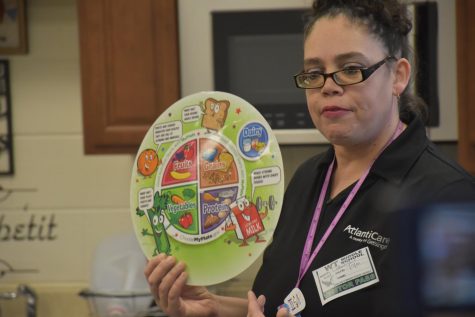 "I got to sit in the front row," said seventh grader Mason King,  "and watch what she was doing."
Every year the WTMS has chefs come to the school to have a presentation about healthy eating. The Chefs in the Classroom: Food for Thought isn't the only healthy program that the WTMS will be having. The WTMS has ongoing healthy eating included into the school, such as the STEM vertical gardens which are used to help students grow healthy ingredients before cooking with them in science classes. When asked, students said Food for Thought has taught staff and students to never judge the way something looks before trying it and to always try different things.   
"We just want to thank Winslow Middle School and Dr. Cooper for inviting us," said Guzman, "and we're looking forward to a continued collaboration with the school."