Chen's Coding Students Earn Regional Recognition at NJIT
To compete in a coding competition, Ms. Chen's computer science class went to New Jersey Institute of Technology (NJIT) in Newark, Friday, December 13th, 2019. The invitation to compete was earned as a result of a strong performance in October during preliminary online competitions against other hopeful coding programs.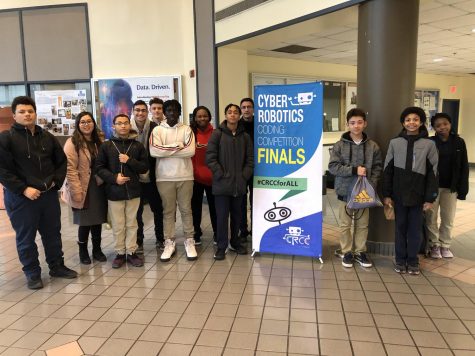 "I felt like it [qualifying] was kind of expected," student, Giovanni Vera told. "I did kind of feel surprised because it was going to be my second time doing it. I did it last year."

Based on their prior performance, two of Chen's students, seventh grader Steven Hardy and eighth grader Giovanni Vera, competed in the competition. The finals consisted of 3 different phases where the students completed multiple challenges on the computer, coding a robot to maneuver and gather as many points as possible.
"During the competition, kind of nervous in the beginning." Vera stated. "I didn't think we were going to get far because last time we got a pretty low place but near the end, when we finally got our place, i kind of felt satisfied."
The three phases of the competition were designed to become more difficult as they progressed; this allowed students to highlight their different coding abilities. The first phase was a complete as many levels in the program as possible, the second phase students had a limited number of tries to complete the level, and the third phase was too try to get as many points as possible. Hardy and Vera couldn't finish the third phase but stayed competitive throughout, earning fourth place overall.  
"4th place felt pretty good," Hardy said. "It kind of hurt a little because we were so close to third place, but I expected us to place lower… we did good." 
Last year was the first year that Chen's students competed. Previously, she had two teams that had represented her, and they had placed 14th and 15th during last year's competition. This year, with only one team, the team was able to build on lessons from last year to improve performance. 
"It was awesome. Last year we placed 14th and 15th. As a school we had 2 teams that year; this year we had one team and we placed 4th," Chen announced. "But I think that we did a really good job and my students had a lot of fun."
As the students were competing, the rest of Chen's class toured NJIT, exploring the MakerSpace to see what opportunities the college had to offer. They walked around before and after lunch looking at things there including cutting machines and 3D printers. The tour also included presentations from members of NJIT's Technology and Computer Science Department.
"At the MakerSpace we saw different types of cutting machines and 3D printers. One of the cutting machines cut metal sheet out of water jets," said Chen.  "[We] had a lot of fun."
Awards were given during closing ceremonies at the end of the competition, with Vera and Hardy being recognized for their performance. Chen had informed that she would keep doing these competitions as long as they continue to qualify. 
"It felt actually really good because we've gotten really far," Vera exclaimed, "and that many schools, it feels great to, you know, get at least fourth."