Mr. Voss, January's Teacher of the Month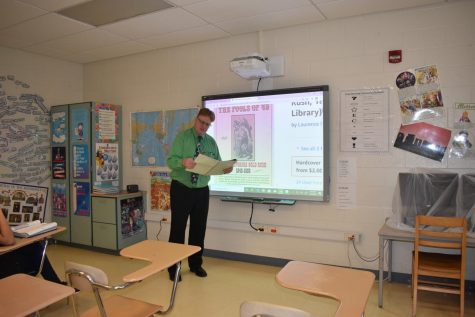 8th grade Social Studies teacher, Mr. Voss, was nominated for the January 2020 Teacher of the Month Award  by the Social Studies department, at Winslow Township Middle School for his teaching methods. Mr. Voss says that he tries to keep learning enjoyable while keeping the students' school pressure in mind.
    "I try to make learning fun," stated Voss. "But at the same time…stress and the kids, and the seriousness of their education."
    Mr. Voss was first informed of the award by Social Studies and co-teacher, Mr. Mapps. When Mapps had congratulated Voss over text, he was clueless until Mapps had sent him the email for the award. Voss was very modest of the award and thought that other teachers deserved the award just as much as he did.
     "I was incredibly humbled," said Voss, "because there are so many incredible teachers in this building that it is quite an honor to be recognized for this. I was [also] excited. I've been teaching here for 11 to 12 years and I've seen a lot of great teachers receive this award."
   Voss says he was also joyful of the award and he doesn't put much stock into awards that he receives. He included that he doesn't know who nominated him but overall, he's satisfied with the work he does and the work other teachers do at WTMS.
   "I'm proud of the work I do…," expressed Voss. "There are a lot of great teachers that haven't received acknowledgement for the work that they do day-in and day-out, so really [the award] hasn't changed for me."
   Voss said he wasn't anticipating this award and has never received  Teacher of the Month recognition. Other awards he had received include Candidate for National Teacher Certification and a district grant for creative assignments. He added on that WTMS does Teacher of the Month to recognize teachers for their hard work.
   "Teaching middle school is a very stressful job," specified Voss, "and sometimes teachers need to be reminded of the work they do. They need to be acknowledged that many [teachers] in this building are doing a great job, and this is one of the many ways that they can receive this recognition to increase morale and just provide a better educational resource for the kids in the school throughout the year."