Revamped Weight Room Encourages Healthy Living
The WTMS weight room received a major upgrade this fall thanks to a grant won by the Green Team through NJEA and Sustainable Jersey for Schools. The process was spearheaded by Ms. Kiett who oversaw the grants, Mr. Weppler who recommended equipment, and Mr. Watson, lead for the School Wellness Council who ordered the equipment.
"There are many components to physical fitness and by having a weight room that has equipment for all skills levels allows students to learn about physical fitness and live healthier lifestyles," said Weppler.  "By providing students with this space it is providing students with valuable knowledge to live healthier lifestyles."
Many new pieces of equipment were added to the weight room. One of the things they added wasTRX mount with ropes that will help a variety of exercises. They also added fitness balls to help with balance and stability, kettlebells to help build forearm strength and increase grip strength, and resistance tubes to help with flexibility and strength. There is also new signage to help students use the new materials.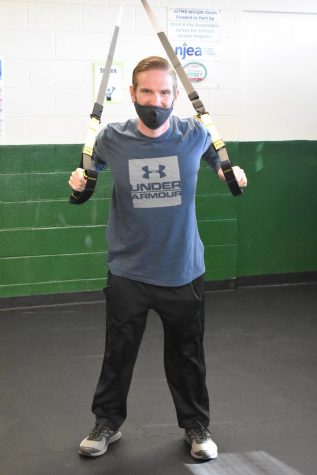 "That's good for the kids who are playing sports….If the school has indoor basketball, I'm going to play that, and I'm going to run track," said seventh grader Nahmir Tucker  "If they have speed resistance that will help me get faster and stronger with the weights. It will be a good process to help me get stronger and faster."
The WTMS Green Team received $2,000 from the NJEA and Sustainable Jersey for Schools as a grant earlier this year to remodel the weight room. The construction and remodeling was planned to be done by June 2020, But COVID restrictions delayed the construction. Members of the district worked carefully with Aramark Facilities Director Sandy Pinnock to ensure everything is up to code and installed safely for student use.
"Like everything else, from time to time updates are necessary and it costs money for these updates," said Green Team Committee Chair Mr. Weppler. " When this grant opportunity came it was the perfect time to get some these upgrades to reflect current trends in physical fitness and to add relevant new signage to brighten up the space and make it more engaging."
Students will be allowed to use the weight room when they return to the school building. They can access it during gym class for all classes to learn how to use the equipment. Student athletes will also use it with their teams, and there is talk of bringing back after-school weight training so more students can benefit. The Green Team hopes that students will see the importance of fitness when students workout in the weight room.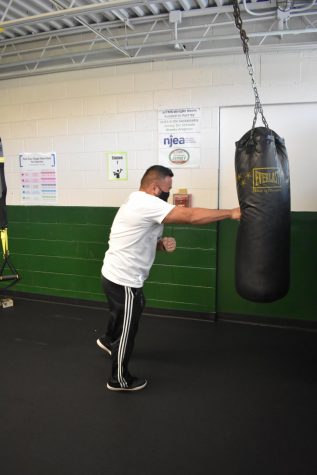 "The weight room is now a fun and welcoming area for staff and students to exercise and learn how to live healthier," said Kiett. "… There are posters and signs offering encouragement and a very informative word wall for staff and students to learn fitness terminology."
About the Contributor
Donte Clyde, Staff Reporter
Donte Clyde is an 8th grade staff reporter at The Soaring Eagle News and Announcements. He enjoys playing basketball and math in school. Outside of school...