Red Ribbon Week Shares Anti-Drug Message and School Spirit
Red Ribbon Week brought school spirit with a message to WTMS during the week on October 26, 2020 in an effort to encourage students to avoid drugs and make healthy decisions. Sponsored by SADD Club, the week tried to bring awareness to issues that students across the country are facing daily.
"I'm glad the school is doing something to bring awareness," said seventh grader Miah Reese-Govan, "because people lose their lives daily, yearly."
Mrs. Medina and Ms. Smith, SADD Club advisors, planned and executed the activities behind the Red Ribbon Week. The activities consisted of wearing red, coming to school with a sports team jersey, wearing a crazy hat, sporting crazy hair, and lastly, bringing a stuffed animal.  This week also included short movies for students to watch in the homeroom each morning about the dangers of drugs and the importance of making smart decisions in life. This was a new addition from previous years.
"Each day that students participate gives me hope," said Medina, "that students will realize they are a part of the Winslow School community that encourages positive decision making, leadership, and staying healthy."
Red ribbon week is an ongoing tradition in Winslow for more than six years. Students and teachers participate in these activities to encourage students to stand up to peer pressure about drugs and trust their gut feelings to stay safe. This meaningful week takes place around this time of year because nationally Red Ribbon Week is celebrated officially the third week of October. WTMS celebrates knowing the school understands the pressures of drugs often increases in middle school years.
"Red Ribbon Week connects directly with S.A.D.D's club's mission" said Ms. Medina, "Which is to empower young people to successfully confront risks and pressures that challenge them throughout their daily lives." 
During SADD Club meetings, members exchange thoughts and opinions about learning opportunities, destructive decisions and how to get away from them. Group activities use the time to encourage breaking down social barriers with the goal of creating a safe space where students feel supported to make decisions that will positively affect them. Red Ribbon Week has a special meaning for many in our community, including the SADD Club advisor.
"I was a S.A.D.D Club member in high school, so being an advisor now for Winslow Middle School has a special spot in my heart," said Medina. "I know a few people that have used drugs and it really has impacted their life negatively. …It is better to be proactive and pledge to be drug-free in the beginning, than it is to use drugs, become addicted, and then try to break the cycle."
Red Ribbon Week is now the largest prevention program in the country. It began after the death of a Drug Enforcement Administration special agent Enrique "Kiki" Camerena. He was killed during investigations of drug trafficking from Mexico. Later, 2 of his high-school friends began the campaign. In 1988 it went national after partnering with the National Family Partnership. President Ronald Reagan became involved as an Honorary Chairperson in 1988. Today schools across the country recognize this important time.
"I hope students have fun with the theme days and feel as though they are a part of the Winslow school community," said Medina. "I hope they remember that the staff at the middle school do care about their well-being and future. I hope that they are aware that there are other ways to deal with stress and peer pressure other than using drugs. "
About the Contributor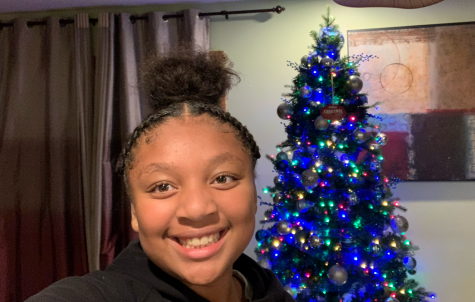 Talia Shumate, Photo Editor
Talia Shumate is a eight grader and the incoming Photo Editor for The Soaring Eagle. She values the originality and the creation of writing, and she often...