SGA's Food Drive Brings Thanksgiving to Greater Winslow Community
SGA completed their annual Thanksgiving Food Drive from November 17-19, 2020, for those in need across Winslow.  The effort was to continue
"I feel that what our SGA students and their advisors are doing for the greater Winslow Community is amazing," said Assistant Principal Mr. Edwards.  "It shows the level of compassion, concern and empathy that comes from the hearts of our staff and students, wanting to help out the families in need that will benefit from all of their efforts."
From November 17-19 students were expected to collect non-perishable foods for the middle school to donate to Sicklerville United Methodist Church. Winslow families in need received the food in dinner baskets for Thanksgiving; despite being remote, the school collected over 300 items.
"Before the effort began, I was concerned about the turn out," said SGA sponsor Ms. Donohue, "because students were not coming to school face to face everyday so I did not expect the turnout to be as large as in past years."
The Student Government Association started planning for the Food Drive in October. The boxes and signs were made by SGA students and the boxes were placed outside the cafeteria by the 8th grade entrance. According to Donohue, the members of the church were grateful for everything they had received. This is the 16th year of the school completing this project because it helps the needier local families while also teaching students about giving.
"I think it's important for students to understand that there are some families that are less fortunate than they may be and that they live right here in the same Township. By giving this church they are helping their neighbors and it develops a sense of community." 
About the Writer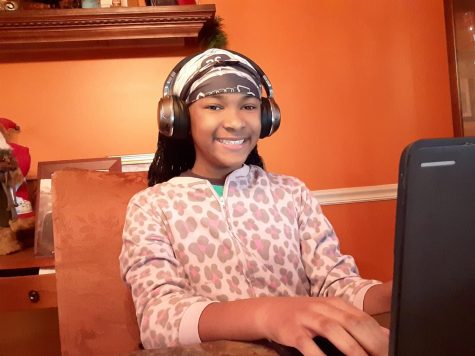 Marlo Hunter, Staff Reporter
Marlo Hunter is an 8th grader at Winslow Township Middle School and also a staff reporter for The Soaring Eagle News and Announcements. In school she enjoys...