In-Person Promotional Ceremony a Cause for Excitement in Community
Now scheduled for the WTHS football field, the upcoming 8th grade promotional ceremony has changed to an in-person ceremony arranged to take place on June 16th, 2021 starting at 6:00p.m. The WTMS administration and faculty will celebrate the 8th grade for their ongoing progression from middle to high school.
The change was possible as of May 7, 2021, when Governor Murphy increased outdoor gathering restrictions to 500 people as COVID-19 infection rates continued to decrease. 8th Grade Adviser Ms. Stallard and administration built plans to relocate the virtual graduation to an in-person ceremony and announced the changes Thursday, May 20th; there is no rain date for the event.
"I feel students are excited," said Stallard. "Excited to be able to attend their 8th grade ceremony, excited to be the first 8th grade class to experience it outside on the football field, and excited to be able to do something that may feel a bit more normal."
Students will be granted two tickets each outside of themselves and will arrive by 5 for the 6pm ceremony for line up protocols. Students will be given a cap and gown they are expected to return following the ceremony. Appropriate attire for under gowns includes skirts and all dresses to your knee or above at one inch max and nothing revealing; comfortable shoes are recommended because the ceremony is on the field, but no sneakers are allowed.
"I'm excited for my parents to come and just see me graduate from 8th grade," says Sydni Taylor, 8th grade student participating in the 8th grade graduation ceremony.
"
"I feel students are to be able to do something that may feel a bit more normal.
— Ms. Stallard
In addition to the upcoming 8th grade promotional ceremony, 8th graders are required to attend a mandatory practice from 10-12 on the morning of June 16. All fines must be paid in order to attend, and all borrowed materials have to be returned including hotspots, Chromebooks and their chargers. Students have been settling fines, looking forward to the in-person event that allows them to celebrate milestones with friends and family.
"I am excited to be able to offer this to the students and their families," said Stallard.
About the Writer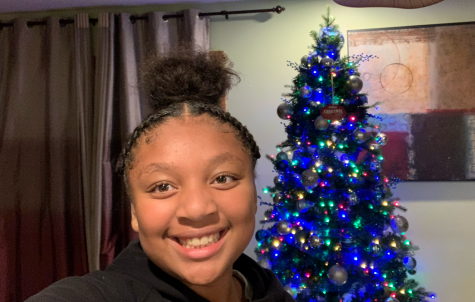 Talia Shumate, Photo Editor
Talia Shumate is a eight grader and the incoming Photo Editor for The Soaring Eagle. She values the originality and the creation of writing, and she often...