Red Ribbon Week Radiates Awareness
Red Ribbon Week is taking over WTMS to help students say NO to drugs by participating in theme days the week of October 25th to 29th.
Red Ribbon Week is a national school celebrated event to promote students to say "no" to drugs and pledge to live a drug-free life. Red Ribbon Week occurs every October 23 to 31. Red Ribbon Week at WTMS is sponsored by our S.A.D.D (students against destructive decisions) Club. There are two advisors for the S.A.D.D club, Ms. Smith and Ms. Medina, who have been helping organize Red Ribbon Week for seven years.
"Red Ribbon Week is something we celebrate nationally and an opportunity to make students aware of being drug-free," said club adviser Ms. Smith. "The S.A.D.D club helps students make good choices and good decisions."
To prep for Red Ribbon Week, the club advisers and club members prepare bulletin boards, flyers, banners, and get the information out for the week!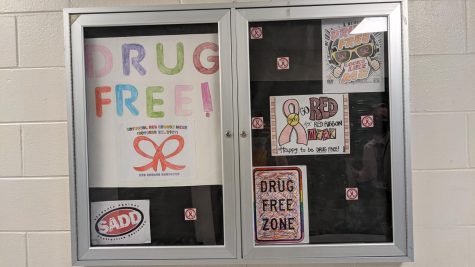 "To prepare for Red Ribbon Week, I have designed our two bulletin boards in the school hallway, created the Red Ribbon Week flyer, distributed the red ribbon stickers (with the help of some S.A.D.D. Club members) in the mailboxes and offices, and helped teach/facilitate instruction and activities during our club meetings," said Ms. Medina "I was a S.A.D.D Club member in high school, so being an advisor now for Winslow Middle School has a special spot in my heart."
Every day of Red Ribbon Week there is a themed day that correlates with a motto. For example, Tuesday was Crazy Sock Day and the motto was "Sock out Drugs!" Students are encouraged to participate in the themed days.
"
Red Ribbon Week is important because it is a reminder to make smart decisions and stay drug-free.
— Ms. Lawry
"I enjoy participating in Red Ribbon Week because I can support saying no to drugs," said seventh-grader and crazy sock wearer, Nalle Seabrook.
Not only do students participate in Red Ribbon Week, but teachers are also able to participate.
"The turn-out that RRW had on her students was great, they participated and a lot of her class wore their hats for crazy hat day," said ELA teacher Ms. Lawry, who participated on Thursday's Crazy Hair Day by wearing a rainbow wig. "Red Ribbon Week is important because it is a reminder to make smart decisions and stay drug-free.",
While interviewing students and teachers about Red Ribbon Week, we also asked "If you had to create a theme day for Red Ribbon Week, what would it be?"
Students and teachers suggested, "crazy shoe day to stomp out drugs," "fancy clothes day to show we can live a lavish life without drugs," "Sunglasses day to shade away drugs," and "dress up as your favorite monster day to scare away drugs". Ms. Smith also said that she would love to have a pep rally saying it would involve "music, dancing, and celebration."
What idea for a theme day for Red Ribbon Week do you like best?
Sorry, there was an error loading this poll.