Winter Concert Warms Hearts
The winter concert featuring the Winslow Township Middle School choir, band, and orchestra was held on Monday December 13, 2021 for the first time in a year and a half in the schools' cafeteria.
This was the first concert since leaving school in March 2020. During remote learning, students in band, orchestra, and choir had to work independently and rely on virtual meetings during this time and did not have any concerts in school. This school year was the first time since then that all students apart of the three groups were able to practice in school, and this winter concert allowed students and the music teachers to get back into the concert routine.
"It kinda just felt like every other one," stated Giovanna Slimm, an 8th grader and member of the orchestra, "but it was a little more nerve racking because it's the first one we've done in a while…but it was fun."
The concert began at 7:00 P.M. with the band opening the concert with the Star Spangled Banner, arranged by Paul Lavender. After a short introduction from Mr. Garonzik, the middle school band teacher, the band performed two songs titled (Risk) Everything For A Dream by Richard Saucedo and Afterburn by Randall Standridge.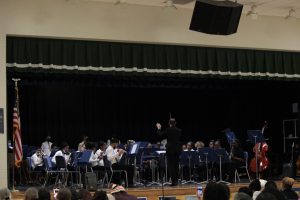 "I feel as though the students did an amazing job at our concert especially for the first one back after 1.5 years." Stated Mr. Garonzik. "After the concert, my students and I listened to a recording of our pieces and we all agreed that there was a lot of good from our playing but also some things that we could improve on. I still feel confident and great about what we performed and know that we will all be working extremely hard for the spring concert too."
Next up was the choir. They performed Dona Nobis Pacem, a Latin song that translates to Grant Us Peace which featured three violinists from the school orchestra. They ended their performance with Under Winter Moon. A song Mr. McNamara, the choir teacher, wanted students to perform that "described the winter season." Both pieces featured a harmony between two sections of singers.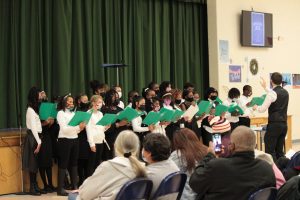 "Parts of it were really quiet. But the parts that I did hear were really good and everyone sounded amazing. The song choices I really liked them because it's not like Jingle Bells or something that you hear every year, every other choir concert, it's something different and unique," claimed Giovanna. "it's just nice to hear something that you don't hear every time."
The final performance was given by the orchestra which included Trepak by Sandra Dackow, a piece from the Nutcracker, a ballet show, and finally a composition of Carol of the Bells by Bob Phillips. The orchestra teacher said that the piece was one that would be played by a rock orchestra. After they finished, the audience gave one last applause, and the program ended at about 7:30 P.M.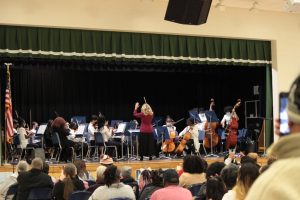 "You guys are the sunshine of our lives," Ms. DiLeonardo, told her orchestra students, stating that their parents would agree. She continued to praise them for their hard work leading up this night and thank them for "being so well behaved and amazing students."