WTMS Celebrates Black History Month
This February at WTMS we celebrated Black History Month by citing daily facts over the loudspeaker in the mornings, educating students in classes, and creating slideshows on influential black figures.
Student government and NJHS created a 43-page slideshow on black historical figures. Each slide show consists of a brief description, a picture, one famous quote, and an informational video. One slide a day was read in the morning during homeroom.
"Making the slide is a great way to explain what some of these famous people have done for our country." states student government treasury, Marissa Green. " For the slides, I did Mae C. Jemison because not only was she influential with her role in NASA, but she plays a major role in Black History which influences many people today."
Not only did NJHS and the student government help celebrate, but also the school's choir. They did a performance for Valentine's Day and Black History Month. On the last day of February, the choir performed recordings students could watch during homeroom. Read more about this here.
"I chose "Lift Every Voice and Sing" because that is known as the black national anthem," stated the choir teacher, Mr. McNamara, "And I thought that that is a very important song, especially with February being Black History Month. Everyone should know that song, not only people of color but also people of every race, so I thought that was very important. Then we chose "I'll Be There", which is from the Jackson Five. Which was a big song during the Civil Rights Movement, so big that I wanted to honor them for this performance."
To end Black History Month, teachers and administration celebrated by either dressing up as important African Americans or creating a slideshow about them to present to students.
"We were trying to spotlight figures in African American history that made a difference when we think about the Civil Rights Movement" quoted Mr. Brown, who dressed up as Malcolm X. "And a lot of the advancement of African Americans when it comes to voting, just social equality. A lot of that will stem from Martin Luther King and Malcolm X. Lots of people know Martin Luther King because he's more famous, his message was more received. It was a little bit more milder, where Malcolm was a little rough in his message; a little more separatist at first until he got a little wiser when he got a little older. And then he realized that we all need to work together. So that was my goal to try to represent the fact that yes, there's room for achievement, but we all need to work together for our cause."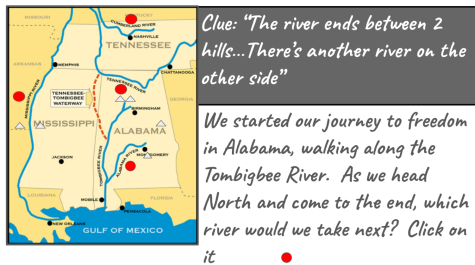 Also on February 28, students participated in this month's student advisory. Classes did an "Escape to Freedom! Follow the Drinking Gourd" escape room where students followed the routes the slaves used to escape to freedom. Students answered riddles and found clues that allowed them to escape.
"It was pretty fun, like most of the escape rooms were all easy when we all worked together and did it, it's all different ideas," stated Harmony Criner. " My favorite part was when we got the answers right and finished it. I also liked the songs the choir sang."
Overall, Black History Month was celebrated all month long in classroom lessons and school events.