Kindness is Contagious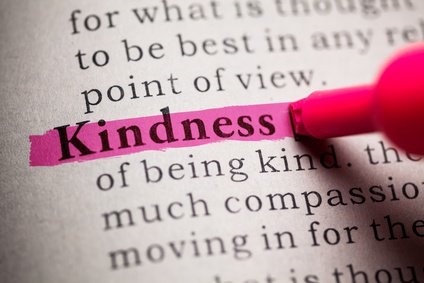 The monthly student advisory meeting was held on February 10, 2022, with kindness as its theme.
The students played a kindness quiz game where they had to fill in the blank, interpret the meanings of several quotes relating to kindness, and identify who certain quotes came from. The students were separated into teams of  4, and a Google Form was shown on classroom smartboards.
¨We went over like a bunch of quotes and how to be nice,¨ stated Nashae Hadley, an 8th-grade student. ¨I think it was pretty fun and I liked it. It was a good idea¨
One quote, by Maya Angelou, was "Try to be a rainbow in someone else's cloud." Students in Ms. Fernicola's homeroom collectively decided that the quote meant that people should try to make someone feel better if they are having a bad day, and be the sunshine in someone's day.
¨If I were to be a rainbow in someone's cloud, I'd probably do that by trying to do something kind for someone every day,¨ Zenaiya Green, another 8th grader said. ¨You know, like just helping out. Like if someone drops papers, or just giving random people compliments to boost up their mood.¨
Students had to complete a quote by filling in the blanks based on using pictures as hints in a quote that claims "Kindness is a language which the blind can see and the deaf can hear." Ms. Fernicola's students translated this quote, saying that it meant that anyone could be kind, and that kindness affects everyone.
¨Unkind things definitely impact people. It just doesn't make people feel good,¨ Nashae said. Certain things, it just tears people down, and I don't think itś right to tear other people down when theyŕe just the same as you. Just be nice to people!¨
One question asked students to identify famous books by Dr. Suess, and they came up with classic books like "The Cat In the Hat," "Green Eggs and Ham," After answering the question, students learned a quote made by the illustrious author that said, "To the world you may be one person, but to one person you may be the world."
¨I´ve heard of it,¨ claimed Zenaiya about the quote, ¨but I never knew that Dr. Suess was the one that said it.¨
To close out the meeting, some students also came up with their own quotes, or sayings about kindness and submitted them to Ms. Breau and Ms. Kimbrough.
"The one I liked is, 'Always be kind to yourself.' I like that because I feel it's so important to love yourself and be kind to yourself first," Ms. Kimbrough, a school guidance counselor said. "…It'll radiate out to being kind to other people…When you know how to kind of get through those bad days by taking care of yourself and loving yourself, you'll be able to spread that kindness to other people."