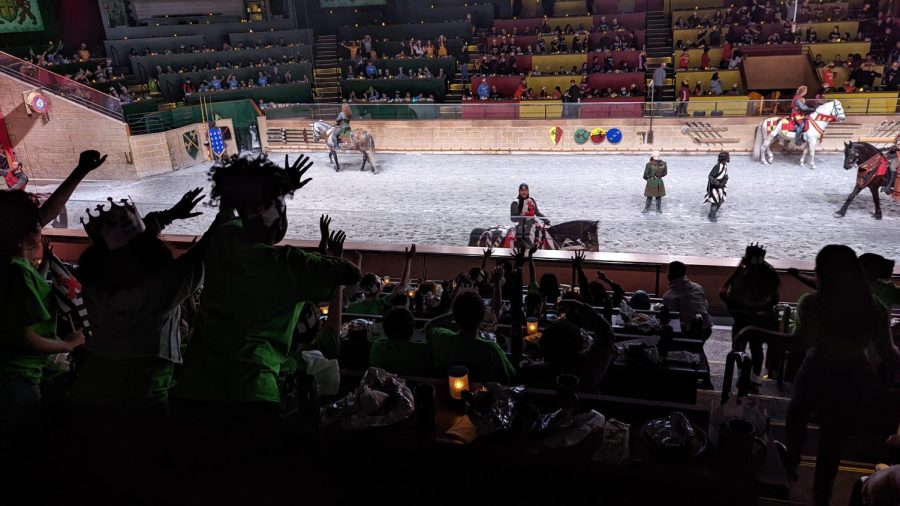 8th grade students at Winslow Township Middle School attended a school field trip attending Medieval Times and bowling afterwards to celebrate the graduating middle school.
Students boarded the buses at 8:30 AM on May 26th. 2022, and headed to Lyndhurst, NJ for a lunch and show at Medieval Times.  For some, this trip was surprise because it wasn't what the school normally does.
"I loved the trip! I wasn't expecting this field trip at all this year, we normally do walking trips, "stated a science teacher, Mrs. Hallman. "The best part was seeing you guys laugh and smile."
After the 2 hour bus ride, the students were dropped off at the castle. The students were served a medieval lunch which consisted of roasted chicken, corn on the cob, a baked potato, and garlic bread.
"It was good and very entertaining! The trip I did not expect, but it was still good," stated 8th grader Dezhoni Ricks. "The best part was mainly the sword fighting and the food."
After lunch, it was time for the sword fights to begin!
"It was fun, just pretty long." 8th grade student Julianna Williams states. "The best part was medieval times when the knights were fighting."
Another 8th grade student DaSean Westone states, "It was cool and it was fun and exciting. The bus ride was pretty boring and tiring. The best part was medieval times when the knights were fighting and when we were cheering them on."
After a crushing defeat of the red, and white and black knight, the students got back on the buses to head to Jersey Lanes for bowling.
"It was very fun and cool," stated Nahmir Tucker. "Bowling was the best part because I'm the best at bowling."
"I loved the trip," stated math teacher Mrs. Miller. "I would go again, one of my favorite parts of the whole trip was bowling."
By 3:30 PM it was time to head back to school.
The 8th grade advisor Mrs. Stallard states, "The trip went really well and the kids enjoyed it. I was nervous at first because it was something new, but then I got excited because it was something new. The organizing went pretty well, and the best part was being able to see the kids enjoying themselves outside of the school."