Red Ribbon Week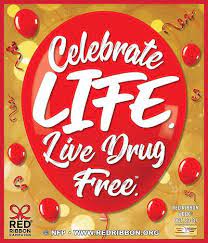 Winslow Township Middle School celebrated Red Ribbon Week from October 24-28.  Students and faculty were encouraged to participate in a number of activities to raise awareness  on being drug free!  
Red Ribbon Week is basically a week dedicated to drug prevention and encouraging everyone to live their best drug free lives.  This year's theme was "Celebrate Life".
"Wearing red on Monday was my favorite day because that's one of my favorite colors." responded 8th grader, Chidera Okorie.  
Red Ribbon Week first started in 1985 but the first official Red Ribbon Week was in 1988. The first National Red Ribbon week was created by The National Family Partnership. The first ever Red Ribbon Week was held in California. 
TV Production teacher, Mrs Irvin participated in the festivities. "I enjoyed participating, especially wearing red, but I really enjoyed all of the interesting ways the students chose to participate. 
"I do think they participated for fun. This is the first year that they were able to fully participate without worrying about their uniforms."
Different schools have different things they do for Red Ribbon Week to represent prevention against drugs. The Winslow Township School District celebrated with crazy sock day, twin day, red ribbon day, crazy hair day, and sports jersey day.