Lewis, O'Neal Ticket Wins in SGA Elections
SGA elections took place October 30, 2019, during Social Studies classes, allowing students to choose a fellow student for each position in office. The eleven students running stated in their campaign speeches that one of the reasons for their campaign is to benefit themselves as well as the school.
The winners of the 2019 elections are Jasmine Lewis for President, Ryann O'Neal for Vice President, Rachael Watkins for Treasurer, Mariah Stuart for Recording Secretary, and Kenikki Thompson for Corresponding Secretary.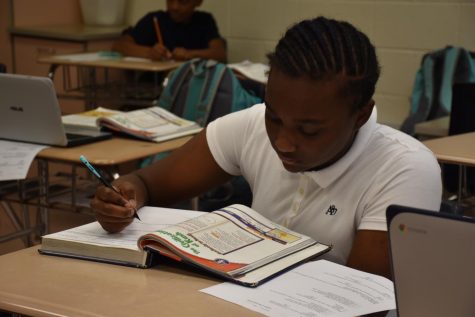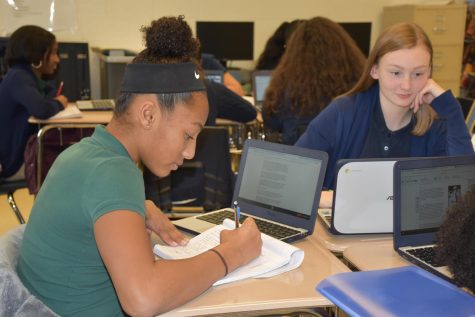 "It helps benefit myself," stated Watkins, "because I get to work with [and learn from] these experiences that I'm going to have."
For candidates to be part of the elections, they had to follow a set of rules and guidelines, such as attending an application meeting, getting their permission slips and petitions signed and turned in on October 11, 2019, and creating signs, posters, and buttons to be approved by Ms. Nwanguma. They also had to compose a campaign speech then have it filmed with Ms. Hay. In the campaign videos, students would state what positions they would be running for, and why they should be voted for this position. 
"The fact that students had a chance to introduce themselves and talk about their platform [was critical]," stated TV Production and Journalism teacher, Ms. Hay, "and students who may not have known a candidate will now vote for them."
Once a student is elected into a position in office, they will hold multiple responsibilities. For example, the president will be working closely with SGA advisers for school business, the vice president would serve as the acting president if the standing president is absent, the treasurer will handle all financial transactions, and the secretaries will keep and maintain a record of all SGA meetings.
"I really think that corresponding secretary is something where you can keep everything in order," stated Thompson, "and I'd rather make sure that everything is in line for everyone around me."
One of the major reasons for why students want to be elected into office is to benefit the community, the school, and the students. The winning candidates, who ran as a ticket, stated that when elected, they would they would do their best to make the school better. For example, secretaries would be able to bring excellent money management to the school, and to become a better environment as a whole. 
"I hope that we can work things out as a group," stated Thompson. "We can come together as a community and come up with solutions to our problems."