New Coach Brings New Energy to Winslow Wrestling
Mercedes Storey, Staff Reporter
December 12, 2019
Because of their strong success last season and an enthusiastic new coach, the WTMS wrestling team with Coach Cox is hoping for a powerful start to the new season. Recruiting started in late October, and the team welcomed all wrestlers without tryouts and subsequent cuts because there's a mix of experienced wrestlers and athletes looking to remain in shape for next year's football season.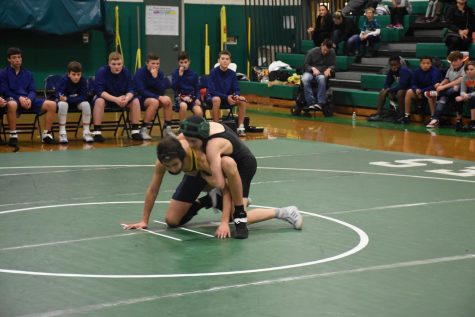 "It's really fun and I really enjoy the sport," said 8th grade wrestler Michael Horsey, "…because it helps with other sports such as football."
This year the wrestling team has 12 matches which will all be at 3:45 pm at their designated locations. Their first game took place in the WTMS gym on December 10th against Harrington Middle School. The team is depending on strong leadership from a few experienced, returning wrestlers and the excitement of many others new to the sport.
" [The team is looking for] ones who want to come out and work hard, come to practice, [and] come to matches," said math teacher and wrestling coach, Mr.Cox.
Since the team has so many new to wrestling, the focus in practices right now is basic skills required for a match. Wrestlers are working on correct setup and stance, breakdowns of opponents, takedown techniques, and pinning an opponent. Coach Cox says  this skill-building will continue for the first half of the season, with practices moving to live wrestling as the season continues and wrestlers become more skilled.
"I think it's important with any kind of thing you do is to stick with it and stay consistent," said Mr.Cox.  "If you're not consistent with it, then it's going to drop off on how you perform."
Mr. Cox, a math teacher new to WTMS this year, is looking forward to bringing his passion for wrestling to a new generation of athletes. Having wrestled most of his life, he brings years of experience, including high school and 2 years in college. Since there is no longer a league for his age and he continues to be passionate about the sport, he took on the role of being a wrestling coach, a role he is excited to start, and athletes are excited to learn from him. 
"I want him to teach me a lot of different moves," said Horsey.
The 2018-19 team had 8 wrestlers and ended with a 5-7 record. Coach DeRosa mainly credits the wins to 5 of the wrestlers who had experience wrestling. Their wins combined with forfeits from other teams who did not have wrestling in specific weight classes led to what the coach is considered a successful season. The 2019-20 team is hoping to improve on last year's season.
"I wanna go undefeated and possibly get first place in a tournament," said Horsey.