Jaycee Norcross Graces the Title of the 8th Grade Student of the Month
In 15 years from now, you may walk into an animal clinic with your furry best friend for a check-up and meet a bright, young woman, helping take care of your pet. Her positive personality, dedication, and intelligence have helped her to create a successful career as a vet tech.
Jaycee Norcross has been formally announced as Winslow Middle's 8th Grade Student of the Month for November 2019.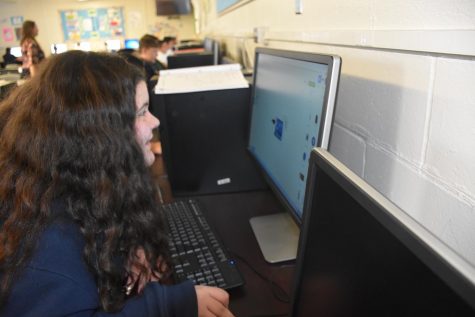 "I think [other students] can learn from her responsibility and maturity," stated Ms. Six. "Its middle school, so people vary on maturity, but she's definitely a good role model to follow."
To her excitement, Norcross was summoned to the office by 7th Grade Vice Principal, Mr. Edwards, to receive her award. She found earning the title to be both very honoring and shocking.
"[Student of the Month] shows that your teachers are proud of you for your good work ethic," stated Norcross. "[I think it's important to acknowledge students for their work] because it shows that… you're a good worker," stated Norcross, " … and it gives you a moment to be proud of yourself about it."
Norcross has a strong goal to become a vet tech and currently maintains a high GPA, participates in NJHS and Newspaper Club, and is a dedicated STEM student. During her spare time, she enjoys playing with her cat and spending time with her friends. She balances school work and activities by prioritizing work and doing some ahead of time.
¨I am very excited for the future and can't wait to see what it holds for me," stated Norcross. "I can't wait to be a vet technician and work with all animals. I hope to be very successful and enjoy my career.¨