Honor Roll Breakfast Highlights Student's First Marking Period Efforts
To honor the hundreds of students who strove to earn honor roll the first marking period, the Winslow Township Middle School administration worked with the school's HSA to hold a congratulatory breakfast on Wednesday, December 11. The breakfast served as a chance for students to relax with their friends while being recognized for the hard work they put in through the first quarter.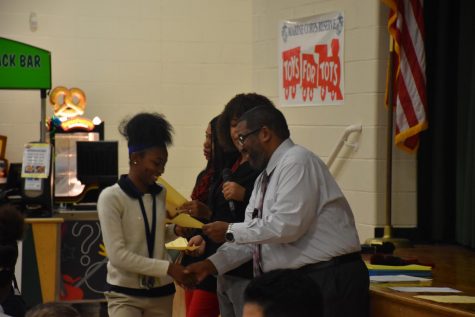 "I'm glad that our administrators rewarded us with this time with our friends for our hard work," said eighth grader Amanda Tague,  "and I'm glad that they're recognizing we're putting the time and effort into our work."
Students were invited if they earned Second Honors or Bronze (at least 1 A and no more than 1 C), First Honors or Silver (all As with no more than 2 Bs), or Principal's Honors or Gold (straight As).  As a result, well over 100 students from each grade were invited. The breakfast began with each student being called up to receive their official certificate. They were then given a light continental breakfast before returning to their seat.
"I think that its great that the school does that," said eighth grader Isabella Pena, "because not only are we being recognized for our success but we also get to have food with it. I really appreciated the donuts."
Many parents came to witness the festivities, often cheering for their children as their names were called.  During the eighth grade assembly, eighth grader Eleisha Poole was surprised by her aunt who had returned home from the military. Students said that the inclusion of their families during this recognition made it even more special.
"I think it means a lot to the students," said eighth grader Joniya Walton, "because they can feel they're being recognized for their hard work, and the parents get to see the outcome of what they do at home and they can see how it's being honored by the administrators."