Stream or Skip: Wednesday Makes Her Netflix Debut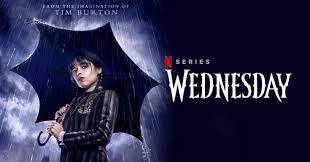 The Netflix film series titled "Wednesday", was a thrilling mystery, but also an endearing comedy. Categorizing it into the genre of horror/comedy. Directed by Tim Burton, the series definitely lives up to his name. Filmed in Busteni, Romania, the show is set in a town called Jericho, Vermont. Sitting at 8 episodes, with an average of 50 minutes per episode, the film follows Wednesday Addams and her journey through the 21st century as a teen, at an odd new school with many dark and killer mysteries. Mysteries that need to be solved, before it's too late, but can Wednesday do it.
The show stars Jenna Ortega as Wednesday Addams, Joy Sunday as Bianca Barclay, Hunter Doohan as Tyler Galpin, Emma Myers as Enid Sinclair, and Percy Hynes White as Xavier Thorpe. One of the first Wednesdays, Christina Ricci, also co-starred in the show as Marilyn Thornhill. Two characters really stood out, however, were Jenna as Wednesday and Myers as Enid.  Ortega was able to carry out the role perfectly, with her seemingly unblinking stare, and her dry sense of humor, on and off screen. Truly bringing Wednesday Addams to life. Emma was also able to display Enid's bubbly personality, but also switch when things started to get serious. All these feats came together when the two girls first met each other, with anger, frustration, and some jokes.
Something else that stood out along with the acting was costumes. Costume designer, Colleen Atwood, really out did herself. After working with director, Tim Burton, since 1990 on many other projects, such as "Edward Scissorhands", Atwood was truly able to capture the essence of each character in their clothing. Wednesday and Enid, however, really took the stage. With Wednesday's apparent allergy to color, she rocked black, white, and some shades of gray the whole show, including her signature uniform. This helped to display her dark and seemingly creepy personality. On the other hand, Enid rocked many bright colored sweaters and skirts, displaying her bubbly personality.
This show definitely displays the theme of it being hard to open up to people, especially if you've been through a lot. Wednesday specifically had a life and experiences that made it hard to open up and feel emotions. However, even with this struggle, I would still recommend this show to any fan of dark humor and slight horror. It's funny and highly enjoyable, and I would definitely rate it a 10/10. Still, it is to be remembered that this show is different from the first few Addams Family movies, but in an amazing way. The series is rated TV-14, although there is some gore and minor cursing, it's probably okay for people over the age of 11 to watch and appreciate.