WTMS Students Take a Walk Down Candy Lane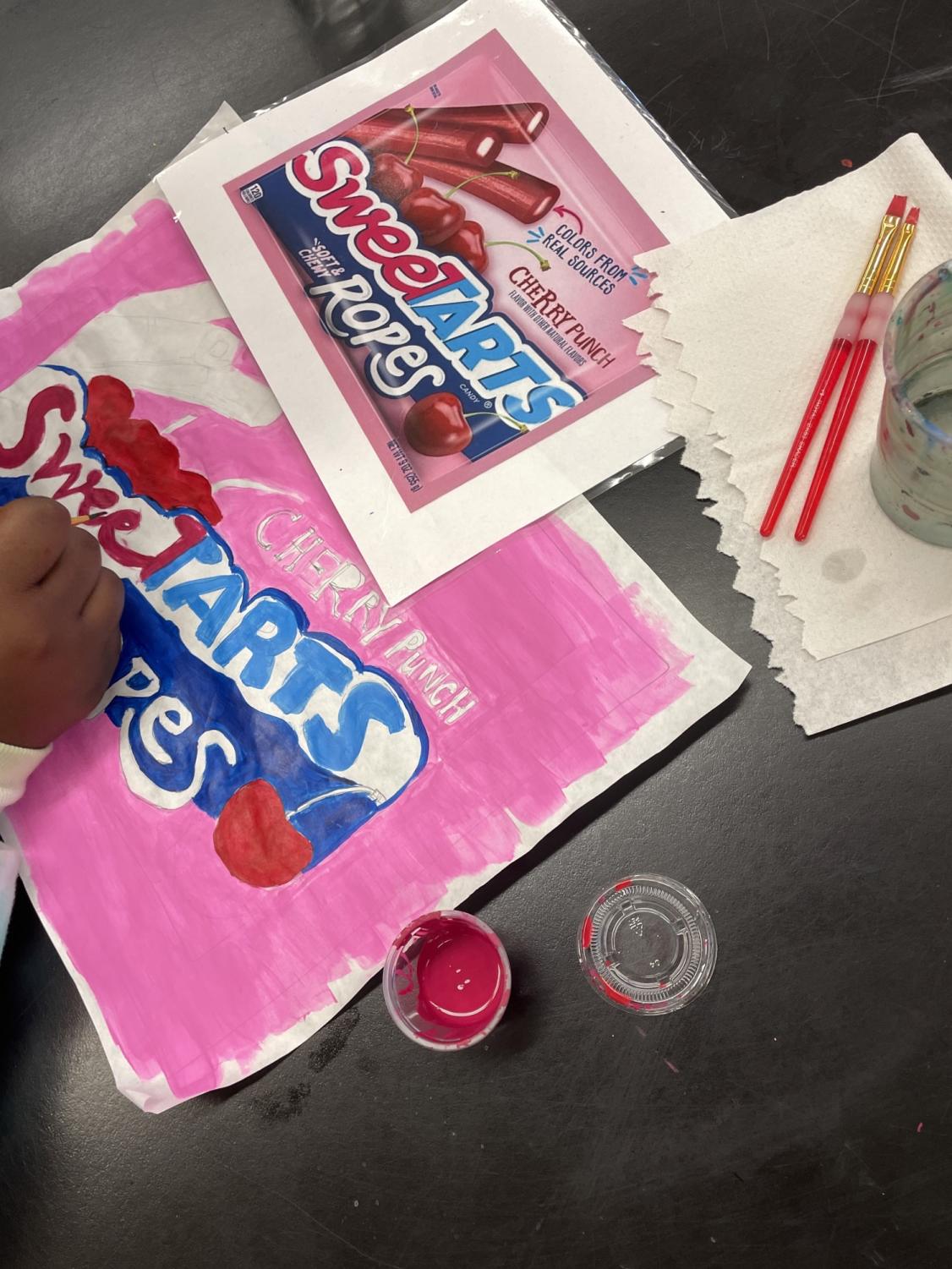 Do you like candy? Or, maybe you're just a fan of creativity and inventiveness.  If so, Candy Lane is for you! Mrs. Choyce, the 7th grade art teacher, and her students have designed an immersive 3D candy shop. The art installation is available to walk through, with a teacher escort, starting October 31. 
Their inspiration for this installation was Andy Warhol.  He was an American visual artist who started the pop art movement.  He is most known for his Campbell Soup Can paintings. The students used Andy as their inspiration when painting the candy for Candy Lane.
"We wanted to create an immersive experience that students and staff could walk around and enjoy. That is the reason behind Candy Lane!" Mrs. Choyce explained.  
Mrs. Choyce went into detail when describing the steps to this project. "For this project, students needed to work on their observation skills and painting techniques. Students were tasked to recreate a candy wrapper of their choice by hand-drawing it while they used a reference image. After that, students had to carefully and neatly add color to their designs using acrylic paint – which can be very difficult. However, the 7th grade art students knocked it out of the park and created some very successful candy sculptures! The Candy Shop would be nothing without their hard work."
 The staff and students are able to experience this during the school day, as long as a teacher escorts the students through the installation.  There are also writing samples displayed on the walls that go along with the sculptures.   Students can walk through, experience the sculptures, learn about the process, and even leave with some coloring pages. 
Mrs. Choyce explained, "Our hope is for the entire school to be able to take a moment from their busy day to enjoy some art. Art can be an escape from reality, a way to imagine and envision a whole new world. That is what we wish for staff and students to experience while walking through the 7th Grade Art Candy Shop – a change of scenery that is full of color and whimsy."
Seventh grade art student, Yanaira Hadley described the process behind Candy Lane.  "It took a few weeks to make because we hand painted all of the candy. It was very exciting, and really fun. I got to see candy lane come together step by step."
The art students of WTMS will be creating more interactive experiences this year.  Candy Lane is just the beginning!